TERPENE GUIDE
Do you have a go-to strain because of its taste and scent? Or, maybe you're into its uplifting effects. Whatever your preference, understanding the associated terpenes can open you up to a wider range of cannabis experiences.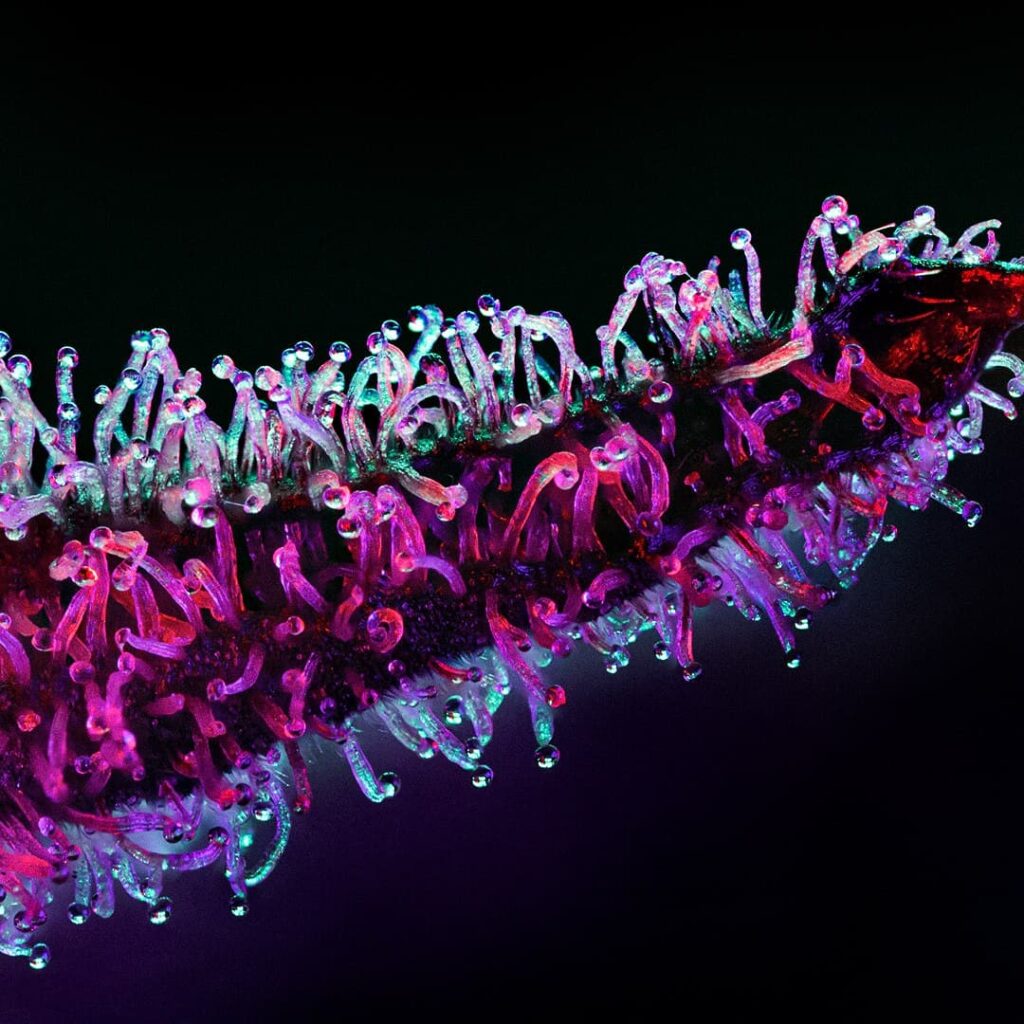 What are Terpenes?
The sugary trichomes you see on your bud create cannabinoids and terpenes! Terpenes are the aromatic compounds that give cannabis strains their unique scent. In other words, terpenes are the reason Sour Diesel smells like a bucket of funky fuel.
Terpenes add to what makes each strain characteristically sativa or indica through the entourage effect, the theory that all compounds in the cannabis plant, including cannabinoids, terpenes, and more, work together synergistically to provide greater effects and health benefits.
CLICK ANY TERP TO VIEW MORE INFORMATION
OCIMENE
Sweet scenet,with a herbal and woody aroma
Cardamom, Cloves, Musky, Earthy, Herbal
Mango, Lemongrass, Thyme, Bay Leaves, Hops

The most abundant terpene in cannabis. Myrcene is well known to promote relief from body associated pain and may give that 'couch lock' effect. Its concentration determines whether a strain has an energizing or sedative effect ( Strains containing more than 0.5 percent have a sedative effect, while strains containing less than 0.5 percent produce an energizing effect )

FOUND IN STRAINS:
Fruity rinds, Rosemary, Juniper, Peppermint

Stress relief. For some, limonene adds that crucial aspect of motivation to a high to get things done.
FOUND IN STRAINS:
Pepper, Spicy, Woody, Cloves

Black pepper, Cloves, Cinnamon

Beta caryophyllene is one of the more common and abundant cannabis terpenes. Beta caryophyllene appears to more directly impact the body than mind with relaxation properties for the body that set the stage for directing your mind in energetic ways, potentially with other terpenes and cannabinoids.

FOUND IN STRAINS:
Lavender, Birchwood, Coriander, Cilantro

For some, linalool has the ability to melt all your cares down the drain (similar to a lavender bath bomb). Linalool may offer benefits for pain relief, easing anxiety and depression, and getting to sleep at night
FOUND IN STRAINS:
Rosemary, Basil, Pine Trees

Pinene is one of the most common terpenes found in nature, this terpene is turned to for its focus and attention driven effects.

FOUND IN STRAINS:
Complex aroma, essences of wood and essences of fruit.

Lilacs, Sage, Rosemary, Apples, Tea Tree, Cumin, Nutmeg

Terpinolene is rarely going to be the most prominent player in a strain but that's part of its beauty — mildly sedating on its own, terpinolene can sometimes pair well with the more energizing terpenes. May give an energy infused with the wonder and awe afforded by taking a step back and just letting the energy flow through you.
FOUND IN STRAINS:
Jasmine, Tea Tree, Lemongrass, Ginger

Jasmine, Tea Tree, Lemongrass

Known for its sedative effects. For some, Nerolidol has been able to help calm anxiety,  most associated with cannabis strains rated high for reducing anxiety, suggesting it may play a role in cannabis' calming abilities. 
FOUND IN STRAINS:
Hops, Coriander, Cloves, Basil, Ginseng, Sage

A close relative of Caryophyllene. Humulene is a versatile terpene and was the first terpene found in hops. It has a variety of potential medical properties. Early research has displayed humulene to be a possible antiproliferative.
It may prove to be effective in suppressing appetite, making it a potential weight loss tool. It's a common ingredient in balms and salves to the aforementioned anti-inflammatory effects. It also works with caryophyllene when interacting with cannabinoid receptors.
Mango, Mint, Parsley, Tarragon

Responsible for some of the sweet and herbaceous flavors of certain cannabis strains, and it can also add citrusy and woody undertones. It may also offer a wide array of medicinal properties as well as uplifting effects,.

FOUND IN STRAINS: